Voices
Stuart Silverman
By Ann Carney | USF News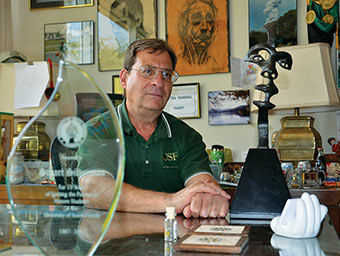 On the memento-filled wall in Stuart Silverman's office is a sign that reads: "It's about the students, Stupid." And if you spend any more than five minutes with the Honors College dean of 25 years, you wouldn't need the reminder.
Silverman joined USF in 1970 as a professor in the College of Education. He serendipitously learned about a vacancy in the Honors program leadership when he was signing paperwork in the office of the dean of undergraduate studies. "I said I'd be interested in that, but I had no idea what it was," he recalls. "I started as interim director and they hired me in 1987 after a national search. It's the best thing that's ever happened to me at the university, and a lot of good things have happened to me here."
Since 1988, Silverman has presided over every USF graduation, reading more than 75,000 names to date. Under his leadership, Honors has grown from a program to a college; from a handful of students to some 1,600 today. What is most surprising, he says, "is how literally smart these students are. These are students who could make it anywhere."
Did you ever picture yourself in this role?
Never. I was a horrible student in high school, a horrible student in college. I didn't even know there was an honors program at USF. I never pictured myself being anything but a faculty member.
What is the hardest part of your job?
Saying no. We, the administrators and I, struggle to never say no to a student. Sometimes you want to say no, sometimes you have to — but we do our best to never say no. That's hard.
What has been your greatest memory over the last 25 years?
The first real performance of the Honors Musical Ensemble. I've been working on that for 19 years, and seven or eight years ago I got it right when we hired a faculty conductor. That first concert was a real highlight. I thought it was music from the heavens.
What's the best thing about Honors College?
Seeing the light bulb go on for the students who are academically unsophisticated, who are naive, who are the first in their family to get a degree. At some point they see they're not here to get a job. They're thinking about grad school, professional school; they see there is so much more they can do.
What's different about Honors students today?
It's hard to imagine, but each year they are even more focused and higher achieving. Their goals are narrower and they do even more service.
Who is Stu Silverman outside of Honors?
A father of two, a grandfather of two, a husband of 47 years, a "barbequer," a reader of bad mysteries. I spend a lot of time with family.
What's next?
A Truman, a Rhodes; getting these students to China, to Australia; getting 50 students in our musical ensemble.
Related Links
Quick Takes
Your hero: My wife
Classroom or dean's office: Dean's office — I can influence more students that way
Favorite book: Joe Klein's Politics Lost
Hobbies: Photography, drumming and golf