Feature
A Place to Call Home
By Tom Scherberger | USF St. Petersburg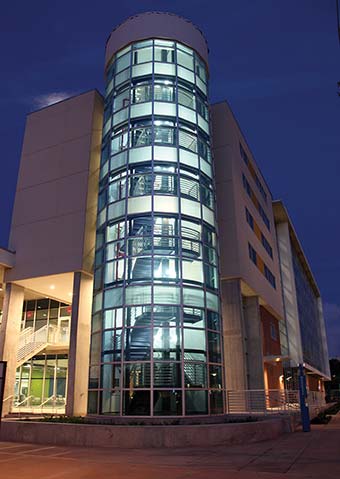 The new University Student Center at USF St. Petersburg marks a major milestone in the evolution of the downtown campus.
Founded as a branch campus of USF, USFSP has steadily transformed itself from a quiet commuter school into a separately accredited, independent institution within the USF System — an institution with a growing residential student body.
The 81,000-square-foot USC includes residential space for 196 students, a modern dining hall called "The Reef," meeting space and outdoor basketball courts. The building's six-story residential tower boosts the total number of students living on campus to 550.
The 75-ft. tall building, the second LEED-certified building at USFSP, occupies a prominent spot on campus, along Harborwalk at the corner of 6th Avenue South and 2nd Street. Its distinctive architectural features include a glass-enclosed circular staircase and an 8,000-square-foot curtain of glass providing sweeping views of downtown St. Petersburg.
The center is expected to quickly become the focus of campus life, a home away from home for students and a gathering place for faculty, staff and the wider community. The Reef will not only offer full-service meal plans; it also will be open to the public for breakfast, lunch and dinner.
The landmark building would not have been possible without the support of students, who went to Tallahassee to successfully lobby Florida lawmakers to pass legislation to make it happen.
While the USC is a major step forward, it is not the first "student center" at USFSP. Jim Schnur, a campus graduate and special collections librarian at USFSP's Poynter Library, remembers when the first floor of Coquina Hall served that purpose in the mid-1980s.
Student Body President Mark Lombardi-Nelson says the new building provides much-needed living and dining space and gives students a place to gather, hang out and relax.
"It's not just going to be a student center, it's going to be our home,'' Lombardi-Nelson says. "It's literally going to be the X factor in our student experience because now we have a building of our own and a reason to stay on campus."
Go to first slide
Move left
Go to last slide
Move right