Feature
Scientific Superheroes
By Vickie Chachere | USF News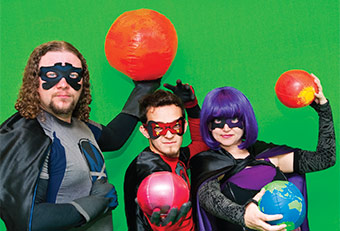 They bear the names of some of the most important scientific and technical processes: Sublimation, Super Conductor and Megabyte. They battle the evil Dr. Entropy who has taken over the International Space Station, and most importantly, they teach the difference between science fiction and science fact.
Meet the Scientific League of Superheroes — the creation of USF doctoral students Samuel DuPont and Audrey Buttice and starring fellow student Robert Bair — a trio of characters turning science education on its head. Their new video series has been shown to 5th graders at four Hillsborough County Schools as part of a National Science Foundation-funded science education project at USF and is on the cusp of a wider public release.
"The whole idea is to help them see that science is all around them and it is interesting and fun," says DuPont, who by day is a doctoral candidate in chemical engineering where his research focuses on new technologies in soft polymer materials for tissue reconstruction.
Bair, a doctoral student in civil and environmental engineering, is working on the high-profile Gates Foundation NEWgenerator project, a clean energy technology that converts waste water into energy, nutrients and clean energy. Buttice is a doctoral student in chemical engineering with a focus on water treatment.
The series follows the adventures of three mild-mannered science students who gain superpowers in an unfortunate lab accident.
In May, Scientific League Inc. was named the winning team for the fifth annual USF/Fintech Business Plan Competition for their business plan to launch the curriculum-based Superhero Training Network series as an independent company. The group won a $7,500 prize and the attention of potential investors in the novel project.
The project is an outgrowth of USF's STARS (Students, Teachers and Resources in Science) program, a National Science Foundation-funded endeavor to develop a new, unique and collaborative model among elementary schools, school district administration and the university.
Along with the videos, students — also known as Scientific League of Superheroes "trainees" — choose their own superhero names and live by a code of using science for the betterment of humankind.
"It energizes the conversation between students and teachers." Buttice says. "It encourages them to ask questions and the level of immersion makes them feel like they really are scientists."
For Maniscalco Elementary School teacher Michelle Clinton, whose class was treated to a visit from the League of Superheroes, the Superhero Training Network was a welcomed addition to her science lessons and produced surprising results. Clinton says her students had a marked increase in correct answers on topics covered by the video series on mid-year assessment tests. She credits the program with helping students remember difficult scientific concepts.
"As a teacher and an educator, I can do everything I can besides standing on my head and trying to juggle, but these guys took it to the next step and really helped me, helped our school and also helped our future as a country," she says.
Fifth-graders Madeline Macaluso and Parker Hertenstein agreed — nothing quite matches a scientific superhero in action.
"It was fun to do the hands-on learning experience and get to do it yourself," Macaluso says. "It makes you feel like a real scientist."
Related Links