Feature
Research Alliance
By Hilary Lehman | College of Business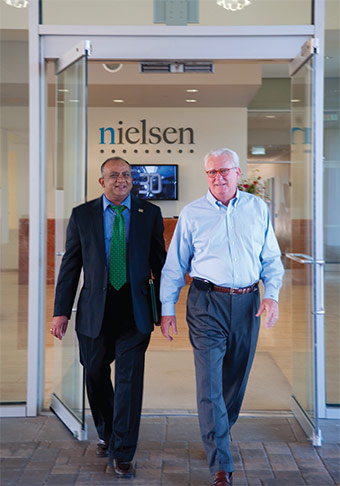 Which social media platform is most effective with women? What works better in advertising: funny or frugal? Does one ethnic group outpace others in mobile data service consumption? How much time each day does the average American spend watching TV?
For years, businesses have been tapping into data about what makes consumers watch and buy the things they do. Now, thanks to a new and expansive alliance with Nielsen, a global information and measurement company, students and faculty at USF have the opportunity to tap into that information as well.
The growing alliance builds on an existing relationship with the university.
In recent years, USF has been one of Nielsen's deepest hiring pools. In fact, over the past three years, the majority of college-level hires at Nielsen's Global Technology and Information Center in Tampa Bay — the company's largest among 800 offices worldwide — have been USF grads.
"While Nielsen has strong relationships with other respected universities throughout the United States, this alliance brings a unique link to one of the fastest growing university research programs in the country, access and exposure to the some of the best students at USF interested in market research, and a variety of opportunities for Nielsen leaders and associates to engage in projects and guest lecture at the university," says Robert McCann, executive vice president for Nielsen.
Best known for its boxes that track TV ratings, Nielsen is a leading global provider of information and insights. While its Tampa Bay facility is just 20 miles from USF, the data it tracks comes from around the globe and pertains to more than just ratings. Nielsen measures the shopping and media behavior of some 10 million consumers worldwide. It tracks consumer product sales trends, consumer buying patterns, brand loyalty, television program preferences, trends in online media, links between advertising and market share changes, and more.
The new alliance marries data with academic research. It gives USF the ability to access data and do projects that no other universities can. It gives students experience with massive, real-world data sets.
Kaushal Chari, chair of USF's Information Systems Decision Sciences Department in the College of Business, who is coordinating the partnership for USF, says the Nielsen alliance will enable the university to recruit high-quality PhD students and faculty who want to produce research with real-world implications.
"Data is like gold in business school research," Chari explains. "The USF College of Business now has the potential to be one of the leading centers for consumer research."
USF faculty will be able to use data in their research and published studies. The Nielsen data they tap into won't be dated, like examples in textbooks. Faculty and students will have access to almost real-time information on consumer purchasing and media consumption.
"In some cases students and faculty will have access to data from the day before," McCann says. "Not last week, not last month, not last year — literally yesterday."
Chari hopes the data will enable researchers to focus on predictive modeling, using historical data to predict choices or purchases consumers might make in the future about TV programs or what brand of toothpaste or coffee to buy.
Marketing professor Anand Kumar believes the Nielsen alliance will provide a head start for his students who will be using data — sometimes Nielsen data — to make decisions in their marketing jobs once they graduate.
"This is a tremendous opportunity to expose our students to these data sets," Kumar says.
He envisions students using Nielsen data when examining how to introduce a brand into a new market. Students could create a marketing plan by seeing what media their target demographics consume and determine the best way to reach their customers.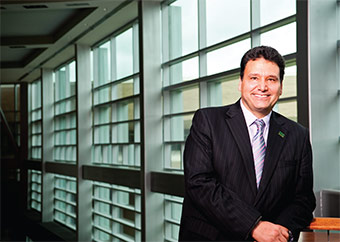 While the Nielsen alliance provides obvious opportunities for researchers and students looking to solve real-world business problems, it's not only the College of Business that benefits. McCann and other Nielsen executives say while business, engineering and mass communications are logical disciplines that would seek access to the information, the data will be available to faculty from any college.
Scott Liu, an advertising professor in USF's School of Mass Communications, says his advertising students already use Nielsen data when they make sample advertising plans for buying and selling media, but the data they previously had access to is more limited than it will be under the new alliance. Advertising students need to understand Nielsen data, he points out, given that 80 percent of a typical advertising budget is devoted to buying time and space from media outlets.
"Media planning is perhaps the most important and challenging part of the advertising business because we can't afford abstractions anymore," Liu says. "Everything has to be quantified. Clients require it to be quantified. The entry point is basic audience data, and especially ratings. That's what Nielsen does, and what Nielsen does the best."
Wolfgang Jank, a leading statistician in his field and a professor in the Information Systems Decision Sciences Department, says the importance of the Nielsen alliance to research, students and eventually the business world can't be underestimated.
"In today's world, data is one of the last secret weapons that can give a company an edge," he says. "But when the data comes in, there aren't too many people with the right training to extract valuable knowledge from that data. The Nielsen data can really help us push that latest frontier of information technology into the classroom."
Moez Limayem, the newly-hired dean of the College of Business, credits his predecessor, former Dean Robert Forsythe, with forging the relationship with Nielsen, including the recently-inked alliance agreement and the ongoing recruitment drive for USF business students.
Just weeks into his new job, Limayem met with McCann.
"This alliance touches many strategic goals of the university — stronger ties with the business community, student success and research," says Limayem, who is working with Chari and his colleagues in the ISDS department, as well as faculty in the marketing department, to develop a roadmap for the alliance. "This is a really big thing."
The immediate goal, he says, is to create a pilot project that poses a research question and uses Nielsen's data to extrapolate rigorous, scientific answers to the question. And to continue to build a rich, meaningful and long-term partnership with the company.
"We are in the process of oiling the machine," Limayem says. "Nielsen will win. USF will win and the students will win."
Emerging Leaders
Just two years after Chris Hatter graduated from USF with a degree in management information systems, he's doing a job most graduates dream of — he's in Paris for six months on business coordinating a Nielsen initiative in China.
Hatter was hired right out of school as part of Nielsen's Global Business Services Emerging Leaders Program which puts entry-level associates into six-month rotations in various sectors of the company. And he isn't the only USF alumnus who has gone on to prosper at Nielsen.
"We've had a number of managers comment on the success of our USF grads," Hatter says. "They are clearly prepared for life after school."
Nielsen has about 2,000 employees at its Tampa Bay facility, of whom about 10 percent are USF alumni. That number continues to grow, partly because of the Nielsen "Champion Team," a group of about 30 Nielsen employees who volunteer on campus as corporate mentors and guest lecturers — and work to recruit at USF.
Jennifer Hurst, one of Nielsen's chief recruiters on the USF campus, says recruiting from USF contributes to Nielsen's goal of being an elite-level company like Google, Microsoft or Disney.
"We want to be the best company to work for, and we want to have the best people," she says.
Hurst says she has been amazed by the number of high quality students on USF's campus. Over the past year, Nielsen has hired at least 60 USF graduates for full and part-time positions, and USF is one of eight universities— including Virginia Tech, Purdue and Northwestern — that make up the hiring pool for Nielsen's Global Business Services Emerging Leaders Program.
Chris Gera, Nielsen's global strategic program leader in Tampa Bay who is also a recruiter, says the recruiting relationship with USF in the past was essential in forming the new research alliance. He says USF has been an ideal partner because of the collaborative attitude of its leadership.
"USF is willing to consider, 'what should we do next,' rather than saying, 'this is all we can do,' " Gera says. "That open thinking is something that certainly resonates with us."