High Impact
Destination of Choice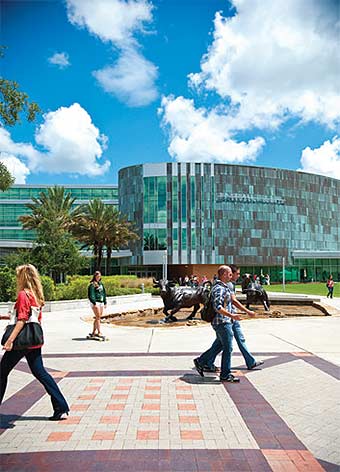 On the heels of a spring semester that saw the university's largest-ever group of postgraduate scholars, including a Marshall Scholarship and a Udall Scholarship, USF welcomed its most prestigious class to the Tampa campus in August.
By all measures, says J. Robert Spatig, assistant vice president of admissions, the incoming freshman class is USF's strongest to date. New students to the Tampa campus this fall have the highest high school grade point average, SAT scores and ACT scores in the history of the university.
Spatig cites several reasons for the rising profile of USF students, including growing awareness of the university's commitment to student success, increasing opportunities for undergraduate research, a robust study abroad program and the mounting success of USF graduates.
"There is a changing perception of quality," Spatig says, and it's no mistake. "We worked hard to do this. It's been an all-out effort by faculty and administration."
For the first time in years, the out-of-state freshman population on the Tampa campus tops 10 percent. And, the international population of incoming freshman, at 3 percent, is USF's largest ever.
"There has been a steady rise in the profile as we continue to target more high-achieving students while at the same time looking for a broader diversity of students in terms of ethnicity and geographic origin," Spatig says.
"Success is building on success. USF has become a destination of choice for high-achieving freshmen."