Sports
Highlights
By Tom Zebold | USF Athletics
Season Opens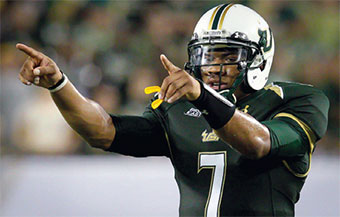 The 2012 USF football team is loaded with potential.
The Bulls were picked to finish second in the Big East Preseason Media Poll, while Phil Steele predicted that head coach Skip Holtz's squad will take the conference title.
USF also earned a lot of attention when it came to preseason watch lists for national awards. Quarterback B.J. Daniels was named to the Davey O'Brien Watch List and other USF award candidates include defensive end Ryne Giddins (Lombardi, Ted Hendricks), kicker Maikon Bonani (Groza), offensive tackle Mark Popek (Outland) and linebacker DeDe Lattimore (Lombardi). Offensive lineman Danous Estenor is a candidate for the AFCA Good Works Team award.
Three Bulls Go Pro in MLB Draft
USF was represented well in June's Major League Baseball First-Year Player Draft.
Reliever Austin Adams was the first Bull to go pro when the Angels selected him in the eighth round. Right-hander Derrick Stultz was picked up by Arizona in the 14th round and ace left-hander Andrew Barbosa also went to the Diamondbacks in the 36th round. Catcher Andrew Longley signed a free-agent contract with the Detroit Tigers soon after the draft.
Bulls Make First WCWS Trip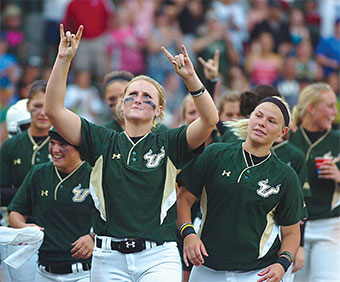 USF's super softball season was packed with memorable feats in 2012.
The Bulls finished No. 8 in the nation after making their first-ever trip to the Women's College World Series in Oklahoma City. Head coach Ken Eriksen's squad went 50-14, rolled through NCAA Gainesville Regional opponents and took two straight from Hofstra to win an NCAA Super Regional before a sold-out crowd at the USF softball stadium.
Ace left-hander Sara Nevins was honored for her individual efforts as an All-American.