Voices
Patrizia La Trecchia: A Passion for Food
By Ann Carney | USF News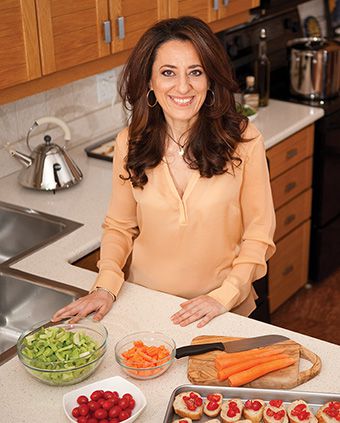 Ever since Patrizia La Trecchia was a child growing up in Tuscany, food has played a central role in her life.
From the early memories of her grandmother's thick-crusted pane e pomodoro to the ethnic cuisines she has experienced as an adult, La Trecchia defines her identity in terms of the culinary narratives that have shaped her life.
Today, La Trecchia is associate professor and director of the Italian Program in the USF Department of World Languages. Her research focuses on Italian and European film, culture, migration, food and identity, globalization, and food waste.
She has been a member of the advisory board of the Gasparilla International Film Festival since 2007, and is a member of the Habitat Partner University Initiative Committee on Food Security representing USF at UN-Habitat. In February, as one of nine presenters at the inaugural TEDxUSF, La Trecchia shared her deep connection to food and publicly urged a war on food waste. Next year she will travel to Rome where she will spend her sabbatical semester as an associate researcher at the Food and Agriculture Organization of the United Nations.
What brought you to the United States?
I am an intellectual migrant. I have some Italian-American heritage, so there always was this 'U.S. thing' in my house. I came to the United States for graduate school; I wanted to be in academia, which is very hard in Italy.
When did you discover your passion for food?
It's not one of those things you discover all of a sudden. As a child, I relocated often and had to develop creative ways to adapt. I developed a passion for thinking, observing and reading. I remember this idea of watching people cook. I remember observing and smelling. Food for me is a great connector — it brings people together.
How does food encourage learning?
At the end of each class I teach we have a class over dinner. I notice when you bring food in the classroom, something changes. People open up over food.
Why is food waste such an important issue?
Food waste is huge; it is a tragedy. It is impairing the sustainability of our planet. I am also very concerned about global hunger. High quality food is not available to everyone in a democratic way.
What can we do to reduce food waste?
We need to rethink our relationship with food at the consumer level, the provider level and the producer level. The media needs to rethink how food is portrayed.
What do you want your students to leave knowing?
I would like them to be well-rounded individuals. I would like them to be curious — like children, like little renaissance people. To be a great human being you have to have the passion to learn all the best that humans have done in all fields of inquiry.
What would people be surprised to know about you?
I am shy. But I tell people, just like learning how to act, you can learn how to socialize.
Describe the perfect meal.
I am preparing it for a friend tonight: We'll start with a glass of prosecco; some minestrone; baked cod Livorno style; orange and fennel salad with sweet balsamic vinegar; my personal variation on crema di riso, a Tuscan recipe for rice pudding; and of course, some limoncello.
Quick Takes
You in a word: Passionate
Pasta or pizza: Neapolitan-style pizza
Food or film: That's cruel!
Favorite local dessert: Donatello's la torta millefoglie
Pet peeve: Self-centered, narrow-minded people