Sports
Highlights: Taking Home the Titles
By Tom Zebold | USF Athletics
Softball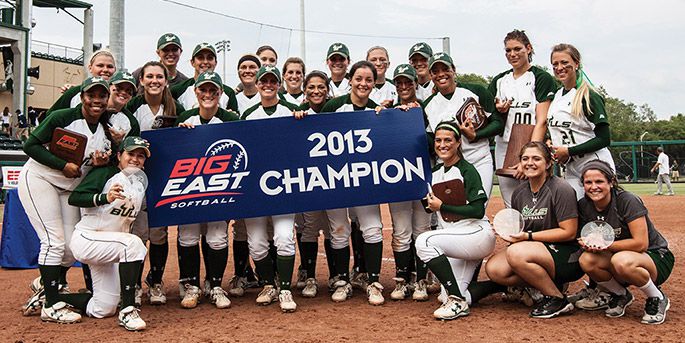 The Bulls left nothing to chance on the way to securing the program's first Big East tournament championship on May 11 in Tampa.
USF posted three straight shutouts in a tournament that was highlighted by Big East Pitcher of the Year Sara Nevins. The junior left-hander pitched 9 2/3 scoreless innings in the Bulls' 1-0 win over Notre Dame in the championship game and earned most outstanding player honors by totaling 22 2/3 innings of shutout work.
Ashli Goff provided the go-ahead run in the top of the 10th frame to help the Bulls earn an automatic bid into the NCAA tournament. USF started its run in the Gainesville Regional for the second consecutive season.
"We all just pulled together at the end. We've been waiting so long for a Big East championship," Goff says. "We just wanted to get the game over with."
The softball team's triumph over the Irish brought the school's Big East tournament title count up to six. Head Coach Ken Eriksen's squad joins the 2007 USF women's tennis team, the 2008 men's soccer team, the 2009 men's tennis team, the 2012 women's golf team and the 2013 men's golf team as Big East tournament champions.
Track and Field
The USF track and field team won six individual titles at the Big East Outdoor Championships while the women's team finished third and the men's squad took fourth place May 5 at Rutgers University.
Grad student Aireonna Bailey earned the women's most outstanding performer of the meet award after winning the 100-meter and 200-meter titles.
Two-sport star Derrick Hopkins captured the men's 100-meter title while Monique Williams and Matthew O'Neal completed the USF sweep in the triple jump. Neamen Wise repeated as the Big East's long jump champion.
Men's Golf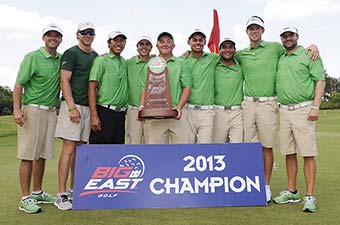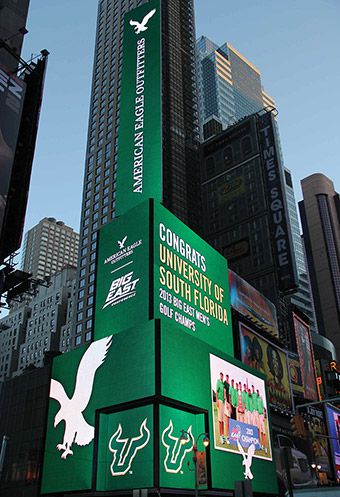 The Bulls pulled away from the pack down the stretch to win their first-ever Big East Men's Golf Championship on April 30 in Kissimmee.
USF combined to go 7 under on the back nine and finished at 6 under, four shots ahead of St. John's. The Bulls were tied for the lead through 15 holes before seizing the conference's automatic bid to NCAA Regionals. The win also marks the USF men's golf team's 12th conference championship after finishing tops in the Sun Belt from 1979-1989.
The recognition flowed in after the big win as Chase Koepka became the first player in conference history to be named both Big East Player and Freshman of the Year. Chris Malloy was named Big East Coach of the Year for the first time while Trey Valentine and Richard James joined Koepka on the All-Big East Team.