Features
Dancing for a Difference
By Ann Carney | USF News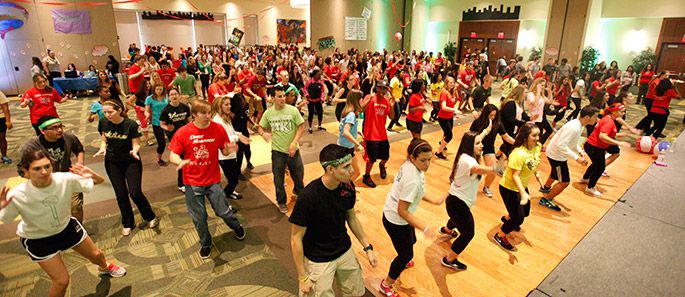 More than 600 students danced the night away in March for the 10th Annual USF Dance Marathon. The 17-hour, student-run event raised more than $16,000 for All Children's Hospital in St. Petersburg.
Each year Dance Marathons take place on college campuses across the United States. The events raise money for Children's Miracle Network hospitals — to the tune of millions of dollars each year.
The 2013 USF Dance Marathon included live entertainment, DJs, performances by local bands and university dance groups, and an appearance by the Dance Marathon Gorilla. The night also included visits from hospital representatives and families who have experienced the help of All Children's Hospital.
Dancers remain active by dancing, standing or participating in various activities for the full 17 hours. The event lasts 17 hours to represent the 17 million children helped by Children's Miracle Network hospitals each year.
Fifty-five student teams took part in the celebration. And in a first for USF Dance Marathon, USF's Greek organizations hosted Variety Hour shows throughout the night.
But at the end of the night, it was all about the children — and making a difference in the community.