Features
TEDxUSF
By Ann Carney | USF News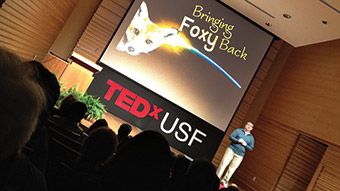 Self-proclaimed TED junkie Jennifer Espinola was listening to a TED Talk on her iPad one night when she suddenly became inspired.
"Before I knew it, I'd applied for a local TEDx license," she says. "I went to my supervisor the next day and she was thrilled," recalls Espinola, director of the USF Center for Leadership & Civic Engagement.
TED, a nonprofit organization devoted to Ideas Worth Spreading, invites the world's leading thinkers and doers to give the talk of their lives in 18 minutes — speakers like Bill Gates, Jane Goodall, Elizabeth Gilbert, Sir Richard Branson and former UK Prime Minister Gordon Brown.
TEDx brings the TED experience to the local level. The independent program of self-organized events uses a mix of TED video and live speakers to offer knowledge and inspiration to a target community while sparking deep discussion and life-changing connections.
For USF that would mean nine, 18-minute live talks on a host of topics ranging from global education, water stewardship and food waste to unconventional therapies, human capital, risk and more. It would mean months of planning and spreading the word; it would mean audience selection and watch parties; a website and social media. It would mean getting the USF community to embrace TED weeks before the actual event in February.
An 18-person planning committee composed of faculty, staff and students got to work on the inaugural event last summer — creating a theme, generating awareness and issuing an open call to speakers. The response was overwhelming, according to Espinola.
"We received 64 applications from faculty leaders and students," she says. Applicants were asked to submit their ideas along with a 2-minute video.
Eventually the pool was narrowed to nine speakers, including students, faculty and alumni (see list). Their talks were streamed live during the evening event.
A live audience of 100 students, faculty and staff were selected to attend the event based on an application which included the question, "What would you bring to the TEDx experience?" The planning committee received more than 700 applications for the live audience and official watch party seats. Hundreds more attended independently organized watch party events, including the Italian Club and a group of teachers in Pinellas County.
The night was a huge success, says Espinola. She's already applied for the next TEDx event license.
"TEDx united the intelligence of our community," she says. "I see it as a way to give a platform to the amazing people at USF who are coming up with the great solutions for our future."
TEDxUSF 2013 Speakers: