Unstoppable
Enhancing STEM Education
By Ann Carney | USF News
A program designed to deliver 80 science, technology, engineering and math (STEM) teachers to Hillsborough County public middle schools by 2017 is taking shape at USF — and it's being made possible by a $3.16 million gift from Helios Education Foundation.
The gift to the USF College of Education, part of the USF: Unstoppable Campaign, is the foundation's largest single investment in USF, and it builds on the rich history of collaboration between the two organizations.
The new Helios STEM Middle School Residency Program aims to develop highly qualified and effective math and science teachers in response to numerous calls to enhance STEM education in the United States. Research shows U.S. students under-perform their peers from other nations, including many less developed countries, in math and science literacy.
Experts say one of the biggest factors responsible for the decline is the fact that up to 93 percent of middle grade students in the U.S. are taught math or science by teachers without a degree or certificate in the appropriate field.
"In order to ensure that our students are prepared for the 21st century's globalized economy, we must first ensure that our teachers are prepared by providing them with the necessary training and professional development they need," says Paul Luna, president and CEO of Helios Education Foundation.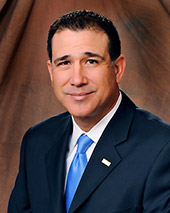 "This innovative, new residency-based program will not only help prepare future math and science teachers but it will provide them with the skills needed to increase student performance in STEM."
Beginning this summer, instructors in the College of Education will tailor coursework to focus on the middle-level education needs of both students and STEM teachers. The first of two planned cohorts of 40 prospective math and science teachers will begin classes in fall 2013, and complete two semester-long practicums by the end of spring semester 2014.
The following fall, as the second cohort of teachers begins classes, the first group will begin year-long residencies co-teaching alongside credentialed teachers in high-needs schools.
By the time both cohorts finish the program, officials estimate 20,000 middle school students will have benefited from classrooms with the additional support — and as many as 100,000 students over a 10-year period.
But the program won't stop there, says Gladis Kersaint, associate dean for research in the USF College of Education and the project's principal investigator.
"We intend to make this program a permanent offering for our students in the College of Education."
Kersaint initially conceived the idea for a STEM middle school residency program in 2010, with then-Dean Colleen Kennedy. They presented their idea to Helios Education Foundation and began developing a detailed proposal after receiving interest from the foundation. The novel program is a collaborative effort between Helios Education Foundation, the USF College of Education, the College of Arts and Sciences, the College of Engineering and the Hillsborough County Public School System.
USF President Judy Genshaft says the institution is "immensely grateful to our friends and partners at Helios Education Foundation for their continued confidence in our education programs, and for yet another opportunity to contribute to the quality of instruction in local schools."
Helios Education Foundation is focused on creating opportunities for individuals to succeed in postsecondary education by advancing the academic preparedness of all students and fostering a high-expectations, college-going culture in Arizona and Florida. Since its inception in 2004, the Foundation has invested over $125 million in education-related programs and initiatives across both states.